CBS Sunday Morning
Street artists are leaving their mark on one of New York City's most hallowed sites, as Faith Salie is about to show us: It's not uncommon to see that people in New York City have left their marks on the side of a building … until you realize where that building is. "I'm literally living out every graffiti artist's dream," said Dylan Bauvez. "I'm up there painting what I hold closest to myself legally here in the heart of New York City, where New York's heart was broken."
Blouin Art Info
AFA Gallery presents "Breaking News," featuring artworks by King Saladeen and Mister E, curated by Peter Tuchman and Doug Smith, on view from September 13 through October 7, 2018.
"The exhibition's title, chosen by curator Peter Tuchman (best known as the New York Stock Exchange's most photographed trader), makes reference to the groundbreaking debut of these artists' work in the hallways of the NYSE this summer….
Architectural Digest
Manhattan's financial district isn't widely known for being particularly beautiful—many parts of it remain a messy construction site—but it's getting a bit brighter thanks to a new crop of vibrant murals at the World Trade Center. Organized by Silverstein Properties in partnership with the Port Authority of New York and New Jersey, the mural project is an interpretation of.....
New York Times
Two years ago Silverstein Properties invited street artists to emblazon an empty floor in one of its office buildings at the World Trade Center site. Now, in a partnership with the Port Authority of New York and New Jersey, the developer has given artists a nearby public place to display their talents. Their new canvas is a collection of corrugated metal sheds — bringing a 5Pointz vibe to Lower Manhattan....
PIX 11
The flowers are in bloom along Church Street between Fulton and Vesey, but some of the petals are painted on the planters.Street artists have been working since June to transform barriers as well as construction and pedestrian areas in the World Trade Center complex in Lower Manhattan.
CBS New York
At a the future home of 2 World Trade Center, a group of artists have been selected to turn the metal construction sheds into works of art.The project is a collaboration between Silverstein Properties and the Port Authority of New York and New Jersey.  Doug Smith of World Trade Gallery helped find the artists involved.
Untapped Cities
While construction of 2 World Trade is on hold, a collection of corrugated metal sheds housing mechanical equipment have been spruced up by artists from around the world to make the area look less like a construction zone and more like a hip pedestrian throughway
Gotham To Go
It all started with a casual conversation between a gallery owner/artist rep and a chief marketing officer of a formidable new building. That was a few years & a lot of paint cans ago. The gallery owner ~ Doug Smith, World Trade Gallery ~ on the other side of the conversation, Dara McQuillan, 4 World Trade Center, Silverstein Properties.
Downtown Express
Downtown's historically corporate streetscape is getting a welcome splash of color. A spread of murals dozens of feet high are in the works at 2 World Trade Center — where Silverstein Properties plans to build another soaring skyscraper as part of its nearly two-decade-long redevelopment of the WTC campus. But for now, the building is built out only to the ground floor, with plenty of blank, street-level wall space….
The New York Times
The 69th floor at 4 World Trade Center in Lower Manhattan has been hit by street artists. There is evidence of spray paint, stencils and wheat paste, clues that artists who go by names like Rubin 415, Stickymonger, Gumshoe and Layer Cake have been there...
Gothamist
On a recent visit to 4 World Trade center, the raw, currently unoccupied 69th floor was buzzing with activity. Instead of contractors getting the space ready...
NBC New York
Street artists are taking their work to the skies -- to the 69th floor of 4 World Trade Center, to be precise. A new gallery housed in the skyscraper features the work of more than 30 street artists, who have covered steel beams, walls, parts of the floor...
Fox 5 New York
If graffiti brings to mind illegal activity on the streets of New York, then the World Trade Center is redefining street art 69 floors up in the sky. In an effort to support artists, Silverstein Properties, the World Trade Center's development company...
ABC-7 New York
"This is like the motif of New York City and what we're standing on right here is the Hudson River basically walking on water, then it goes up into the Palisades here," said artist Ian Ferguson. "Whenever I trigger the sound it changes the shape...
PIX 11 News
The newest NYC sight to see is inside this building in 4 World Trade Center. Street art has taken over the 69th floor. "I didn't hesitate for a moment, I couldn't think of a place to paint," Zimer, street artist, said...
Street and More
The name and his work are two things you won't forget that easy. For issue 12 we talked to English artist Fanakapan who's big shiny balloon letters are constantly rising.
Daily News
It's the World Sprayed Center!
Konbini
The 72-story steel and glass structure of 4 World Trade Center rises high above the streets of Manhattan's Financial District. It's a textbook example of a modern office building: marble-floored lobby, uniformed security guards with ear pieces, business suits shuffling about, floor to ceiling glass windows...
In Lower Manhattan new skyscrapers have risen around the pair of reflecting pools marking where the Twin Towers stood at the World Trade Center site. At almost an acre each, the pools are poignant....
The New York Times
Bernard L. Madoff was handcuffed and whisked into a cell. Michael R. Milken, head in palm, wept. Martha Stewart simply stared straight ahead.If not for one person, these moments might be lost to memory. But when the mighty stumble, the court illustrator captures it forever...
Hyperallergic
An exhibition of courtroom sketches documenting the Knoedler & Company forgery trial by artists Elizabeth Williams and Victor Juhasz closes at the World Trade Gallery...
The Villager
Though Lower Man-hattan is ranked as the fourth largest commercial district in the country, the neighborhood's small businesses struggled substantially following 9/11 and the ensuing recession...
Battery Park City News
Jay Fine, BatteryParkCity.com's favorite and often featured photographer, is showcasing his Fine photography in an exhibit entitled, "The End of Manhattan." With Lower Manhattan as his muse, Jay Fine will be exhibiting his work...
The Korea Times
청계천 도자벽화 '정조대왕 능행 반차도'를 제작한 이헌정씨가 한국공예문화진흥원 주최, 뉴욕한국일보 특별후원으로 8~17일 맨하탄 월드트레이드 아트 갤러리에서 열리고 있는 한국 공예전에 참여 중이다.청계천 도자벽화 '정조대왕 능행 반차도'를 제작한 이헌정씨가 한국공예문화진흥원 주최, 뉴욕한국일보 특별후원으로 8~17일 맨하탄 월드트레이드 아트 갤러리에서 열리고 있는 한국 공예전에 참여 중이다...
The Korea Times
문화관광부 산하 한국공예문화진흥원 오원택(서울산업대 교수) 이사장은 한국공예문화 진흥원 주최, 뉴욕한국일보 특별후원으로 8~17일 맨하탄 월드 트레이드 아트 갤러리에서 열리는 한국공예전을 위해 뉴욕을 방문했다...
Untapped Cities
Larry Silverstein's 72-floor tower, 4 World Trade Center, sits in the shadow of the 9/11 Memorial. In its own way, it is a tribute to the indomitable spirit of New Yorkers, and was one of the first buildings to go up...
Business Insider
The art found on the 69th floor of 4 World Trade Center is not the kind you would expect to see in the Financial District. Larry Silverstein, founder of Silverstein Properties...
Gotham To Go
Like many notable artistic projects, the installation known as Graffiti in the Sky came about through a casual conversation between a gallery owner/artist rep and a chief marketing officer of a formidable new building. The idea was to give the artists who were on view...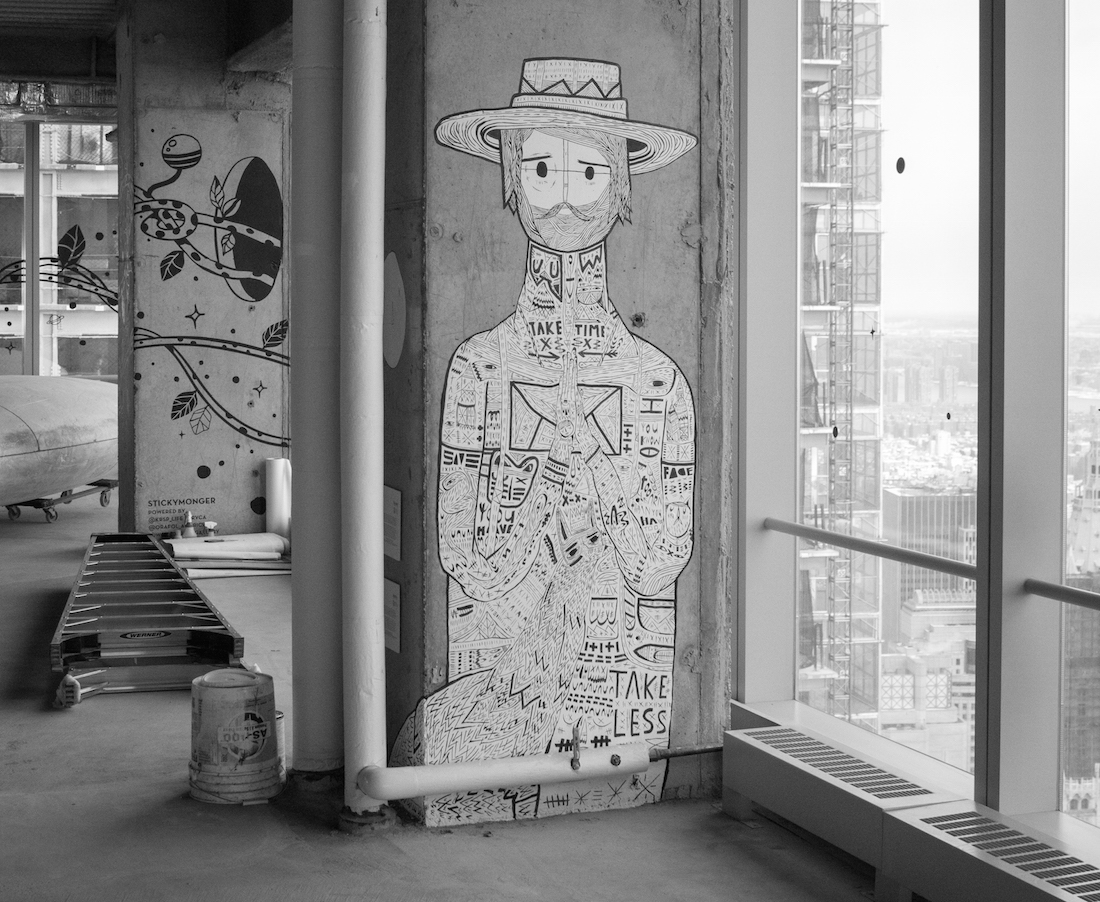 Mass Appeal
A street art show stamped with approval by the corporate suits at the World Trade Center has to be boring, right? Apparently not. This weekend I was offered a viewing of a show by street artists in the bare and empty 69th floor of 4 World Trade Center...
Downtown Magazine NYC
A project nearly a year in the making, 4 World Trade's street-art inspired gallery on the building's 69th floor is finally finished. The exhibit will feature the work of over 50 artists from New York, and around the world, in a variety of mediums....
Global Street Art
As an observer, it's impossible not to feel the weight of memories from September 11th, standing eye level with One World Trade Center (Freedom Tower). Yet amidst the feeling of immense grief and sadness for those we lost, Freedom Tower is a stark reflection of how New York City rose up together to put the pieces of the city back together. The 60-some street artists who contributed to the ART4WTC exhibit...